Learn360 and CVOD Combined
Wendy Collins, Last modified by Chris Plapp October 18 2016 01:52 PM
For those customers who have active subscriptions to both Learn360 and Classroom Video On Demand (CVOD), all of your content is now available in a single video platform. Now when you login to either Learn360 or CVOD, you will be taken to a single integrated platform where you can access all of your media content from Infobase Learning in one place. This new integrated platform will display the following combined logo at the top of every page: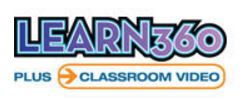 The benefits of combining your media library into a single platform include:
One-stop shopping for your students and faculty to access the best educational video content available
A shared feature set that will give users the ability to easily interact with our content in a consistent way
Faster feature development to bring new enhancements to our users on an ongoing basis
New options for integrating the Learn360-CVOD content into third-party systems such as Learning Management Systems and Discovery Tools
If you have any questions about this new combined platform, click here to contact our Support team.
[Curriculum Video On Demand]
---