Support Center
Heather Gooch September 19 2014 02:19 PM
In addition to Google Translate, Reading Styles, and Read Aloud is another feature available exclusively on our EPUB format eBooks: Embeddable Full Titles.
EPUB full titles can be embedded as part of a lesson plan, to your library/school website, Learning Management System or sharing within your institution.
Once embedded, your students/patrons can page through the entire book in the viewer.
How to Embed a Full Title

In the side panel of each EPUB eBook, is the "Embed Full Title" tab.
Once open there are two options, small and large: 310x445 pixels and 465x645 pixels. Select one and click "Get Code"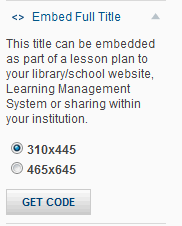 This will take you to the Widget Preview screen where you will see the widget code and the widget preview.
The widget code is what you or your web admin will paste into your institutuion's website.
If you hover over the cover image and then towards the right you will notice a navigation arrow.
Click this to page through the book, you can also page backwards once you're past the cover by hovering your mouse to the left of the page.
You can also click on "View Full Title" on the bottom right if you would like to go back to viewing the title on the Infobase eBooks platform.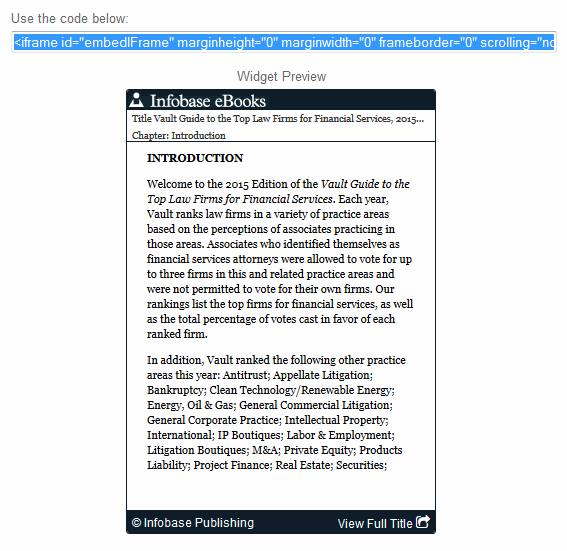 To copy the code just click the code bar under "Use the code below", this will automatically select the code.
Now just copy and paste where you would like it to be displayed.
Note: If you paste the Full Title on your website and you see a little login screen instead of the book cover, it means you do not have authentication with us. Authentication is a great way for your students or patrons to interact with our eBooks without needing to login. To learn more click below:
---